Everything was Moving: Photography from the 60s and 70s – Barbican Gallery, London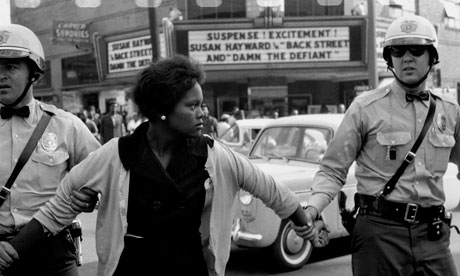 Bruce Davidson's photograph of a Civil Rights Demonstrator, Alabama, 1963

William Egglestone, Red Ceiling, Greenwood, Mississippi, 1973
Every photograph is in fact a means of testing, confirming and constructing a total view of reality. Hence the crucial role of photography in ideological struggle. Hence the necessity of our understanding a weapon which we can use and which can be used against us.

John Berger, 1974
Of all the exhibition spaces in London, I find the Barbican gallery's upper and lower levels emphasise a particular vastness.The art works are separated by connecting walls, partially sealing off a series of rooms, which lends well to curatorial themes and groupings rather than to a fluidity of movement. This layout seemed appropriate to the architectural retrospective of Le Corbusier's work in 2009 and works to even better effect for the current exhibition:  Everything was Moving: Photography from the 60s and 70s – an ambitious showcasing of photographs taken by 12 internationally renowned artists.
However, due to the sheer volume and content of this collection of affectiveimages, I left with the feeling that I needed to go back and see it all again. Segregation, apartheid, poverty, war, protest, social scrutiny, totalitarianism, globalisation, fear, paranoia, joy, intrigue – this show is certainly provocative. But this is not one of those exhibitions that favours content over practice, the medium specificity of the photographic apparatus rests centre stage, and the contrasting  technique, style and process displayed in the work of each artist underscores the diversity in photographic documentation.
My personal favourite of the 12 artists, is Ukrainian-born Boris Mikhailov, of whose images portraying poverty, homelessness and physical and social decay, many owe more than a passing nod to Surrealist collage and photomontage. His diaphanously layered images are witty, with disparate juxtapositions that question the reality of what is being represented in the image and reflect on the role of memory and transition in forming social reality.

Boris Mikhailov 1965 via 100 Words: Who's listening in?
Take at look at the V&A's previous exhibition of his work or buy a book.